This is the third and last part of the of the posts regarding the Lasagne Verdi. You can find the starting page here and the second part here. In this post: Bechamel sauce and the assembly of the Lasagne.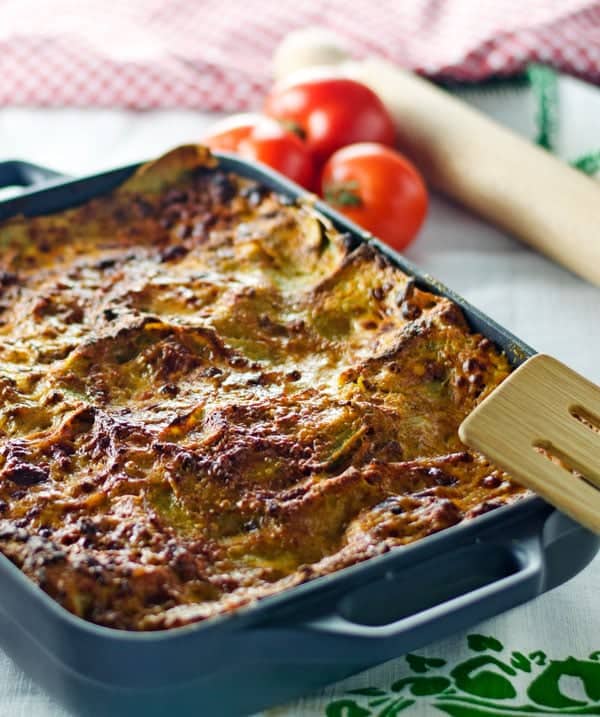 Besciamella (Bechamel sauce)
2 l of milk
120g of flour
100g of butter
nutmeg and salt
Heat the milk to almost a boil and in a 2 l pot heat the butter to a low heat and as soon as the butter is liquid as the flour and whisk vigorously to prevent clumps. Let the flour color up to a light blond color. Add the milk to the mixture one ladle at a time and keep whisking to maintain a smooth texture. Once the pot is full, bring to a boil while stirring and let cook for 5/10 minutes. This cooking stage should unfold the starch molecules and rearrange them in a gel. Biochemistry aside, this means that the consistency of the sauce will change considerably and the
Season with salt and nutmeg. Ondina was not in the habit of tasting the food before completion. She would taste the Bechamel sauce at this stage though! Adjust the salt and nutmeg till the sauce makes your mouth happy.
Assembly
Extra ingredient
Bring a bing pot of water (3 l or more) with 2 tbs of salt to boil.
While waiting for the water to boil, ready the Ragù and Bechamel pots, both should be warm, and prepare a cutting board and lay a kitchen cloth on it. Wet the inside of the baking pan with an half full ladle of ragu'.
Once the water is boiling, lay a batch of 3 lasagne in the boiling water and let them sit for 2 minutes, strain them with a skimmer (or a skimmer and a fork) and lay them on the cloth. It is now a good moment to lay the next batch of lasagne in the water and prepare the first layer in the baking pan:
a layer of pasta
a ladle of ragu
a ladle of bechamel
mix the sauces
sprinkle an abundant tablespoon of Parmesan on top
Once the 2 minutes are over repeat the cycle: strain pasta, lay a new batch in the pot, prepare a layer till you either reach the brim of the baking pan or a total of 6 layers. Bake the lasagne in a pre heated oven at 200°C for 40 minutes and let the lasagne cool down out of the oven for 15 minutes before cutting the portions.